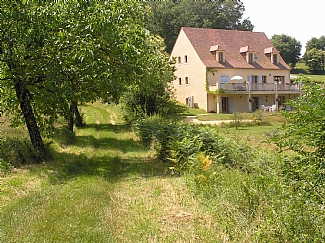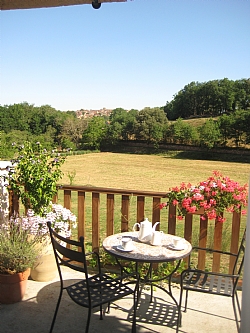 "Scenery stunning, hospitality marvellous, thank you for having us to stay in your beautiful home."
Jane Rees, Porthcawl, Wales.
Très bon accueil. Propreté impeccable. Petites attentions. Délicieux petits déjeuners. Emplacement très calme et proche de plusieurs sites intéressants. Grâce à Pam et Glyn nous avons passé un séjour parfait. Nous recommandons chaleureusement cette adresse. Christian & Isabelle
"Made us feel incredibly welcome from day one, great advice on things to do, many thanks Pam and Glyn, you're both fantastic."
Darren and Anna, West Bridgeford, Nottingham, England.
Simpaticissimi e cordiali Pam e Glyn, ampia camera con bella terrazza e vista sul giardino e sulla campagna, ottima colazione all'aperto, posizione ottima per visitare la Dordogna. Ci ritorneremo sicuramente! 
Roberto, Italy.
L'accueil charmant des propriétaires. Une très jolie chambre une salle de bain privative et une magnifique vue de la terrasse ou le calme y régione ..Excellent petit déjeuner A disposition : cafetière ,théière ,frigidaire.
Moisette, France
Excelente trato de los propietarios. Lugar idílico aislado a un paseo corto de la ciudad de Domme. Relax total.
Elena, Spain.
"Two wonderful days in glorious countryside, thanks for the extra touches of hospitality."
Bob and Mary Tait, Catherine Scott, Johannesburg, South Africa.
"Thank you Pam and Glyn, the place is beautiful, the room is perfect, many loves."
Hanny and Wil, Netherlands.
"It's been a wonderful week, the landscape, the villages, the castles, the Dordogne valley, the caves, EVERYTHING is great!"
Xaro, Toni, Alex, Dani, Nuri, Joan, Pol Mariona, Tarragonia, Catalonia.
This was the perfect place to stay with great hosts. Great location just outside of Domme. Pam and Glyn were the perfect hosts and you could see they have a passion for what they do. Rooms were spotless and great breakfast provided. For us this will now be our place to stay when visiting the area again. Thank you for a lovely few days.
Michael, UK
"Thank you very much for your hospitality, the place is extremely lovely and I felt very comfortable."
Tan Yujuan, Singapore.
"Glyn et Pam, Merci beaucoup pour votre accueil chaleureux. Nous avon passe un agreable sejour en Dordogne,
visite de Domme (village magnifique)"
Gabriel et Isabelle, Nantes, France.
"This is a lovely place. We've especially enjoyed the balcony breakfast and your kind and friendly hospitality, thank you,"
Mimi Jenkins, Davis, California, USA.
"Thank you Pam and Glyn, we absolutely loved our holiday! The gite was beautiful and the little pool was just great after a day sightseeing. The area was idyllic and Domme was such a lovely town and within perfect walking distance. I could go on and on how lovely it was. The perfect holiday!"
Cathy B.
"My stay in the Dordogne was a real success. I took more than 1500 pictures and I enjoyed myself. I want to thank you both fort the nice stay in your B & B and the hospitality. It was my best B & B so far. I will certainly recommend your 'Gîte & Chambre d'hôte' to our friends."
Johan Messeeuw, Belgium.